About the Iona Institute
The Iona Institute promotes the place of marriage and religion in society. Our starting point in debates about the family is that all children deserve the love of their own mother and father whenever possible. We believe in publicly-funded denominational schools. We also promote freedom of conscience and religion.
The Iona Institute is headed by religious and social affairs commentator, David Quinn.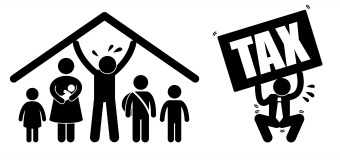 Latest News
A new report into applications for children to be taken into State care in the Republic of Ireland has found that in seven in ten of the cases examined, the children involved were being raised by single parents at the time of the Child and Family Agency taking them into care. The Second Interim Report of the Child Care Law Reporting Project examined 486 childcases between September 2013 and July this year, involving 864 children, or just over 20% of all children in court-ordered care.
Read more »

Pope Francis has warned against marriage being reduced to "mere association", and said that there is a "crisis" in the family, which is being "beat up from all sides." Speaking to members of an international Marian movement, the Pope said, "The family is being hit, the family is being struck and the family is being bastardised."
Read more »
More News Articles
The Iona Blog

Iona Institute director David Quinn was on Newstalk's Pat Kenny show debating assisted suicide with Tom Curran, partner of the late Marie Fleming. Curran is supporting a bill sponsored by Independent TD John Halligan which would legislate for assisted suicide based on the model adopted by the US State of Oregon.
Read more »
More blogs
Recent and Upcoming Events
Our next talk will be delivered by the Catholic bishop of Limerick, Dr Brendan Leahy. His topic will be 'The Meaning of Religious Freedom'. This talk is particularly topical in view of the pressures on religious organisations such as schools and hospitals to conform to values that are often alien to Christianity.
In Ireland there is a concerted move to banish religion from the public square. In Scotland, something very similar is taking place and if anything is further advanced than here. Professor Tom Gallagher will outline the lesson for Ireland from Scotland
More Events

More Blogs

More News Articles

Latest Video
Aggressive Secularism: lessons from Scotland

Aggressive Secularism: lessons from Scotland

Professor Tom Gallagher discusses aggressive secularism in Scotland and asks whether where are lessons for Ireland in the Scottish experience.
View Video